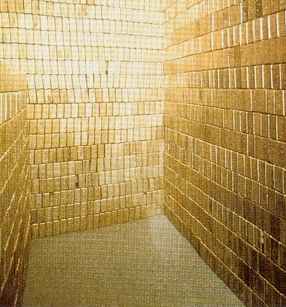 I"ve always been weary at the prospect of investing in precious metals. I understand the reasoning that people do it, especially in times like these where our currency is in the tank (though shown to be stabilizing over the past few days). As a long-term investor I wonder if metals like gold and silver deserve a place in my portfolio.
Things being what they are, I may head that way though, just as a hedge, a small piece of my investment pie. I"ll likely rather than gold, as I think it"s more attractively valued.
So, what do other investors think about the prospect of buying gold and other precious metals? Let"s find out!
Bankrate recently ran an article about how to and gold, though the overall tone was neutral: "

The conundrum for investors is that gold can be owned in different forms. Some are riskier than others. Liquidity varies, as do the costs associated with each form of the asset. Here"s a look at just a few of the more popular ways to participate in today"s gold rush."

On April 29th, Market Pundit Jim Cramer stated: "I need a gold stock in my portfolio."
Toby Shute over at the Motley Fool recently wrote an article about whether or not we should : "There are plenty of interesting things happening in this part of the precious metal playpen, so it"s about time we took another look at a few of the leading silver companies."
It appears that the precious metal bandwagon does in fact have some followers, and even political candidates like Ron Paul have long stressed the need to precious metal exposure as a means to hedge against a falling currency. There might just be something to that, and I intend to look into it.